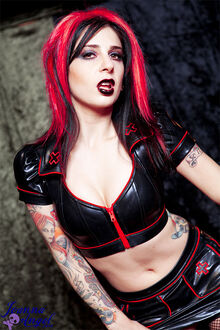 Joanna Angel starred in the 2006 Dougie-Howser award winning pornographic film Doogal.  He played a busty, cock hungry slut who's thirst could never be quenched.  She was costantly unsatisfied by her soon ex-husband Anthony Burch.  She was wooed by the charismatic John Oliver, who she let fuck her sideways as Anthony watched.
Ad blocker interference detected!
Wikia is a free-to-use site that makes money from advertising. We have a modified experience for viewers using ad blockers

Wikia is not accessible if you've made further modifications. Remove the custom ad blocker rule(s) and the page will load as expected.